The Woei demo
Team Bomba has gone crazy again! Instead of finishing Bombaman we've come up with some other silly idea (thanks to the MRC forums): The WOEI demo! Just run the demo to see why we're really doing this :)
The WOEI demo runs on MSX2 and higher, at least 128KB RAM/VRAM needed. Oh yeah, don't forget to connect a MoonSound, or else you won't hear the music... nor the brilliant quote from our friend from Sesame street!
To woei or not to woei, that's the question!
Screenshots
So... what's all the fuzz about? Nothing to see here... move along. What?! You're still here? Prepare yourself for some retro goodness with the screenies below!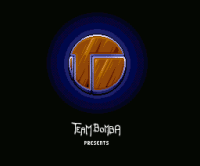 Our cool new logo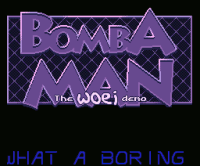 Looks like a standard scroll&logo demo...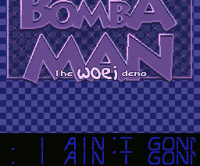 ... but with a rotating backgroung grid!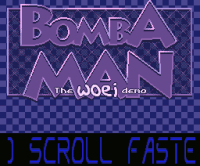 And some text effects! Woei!
Movies
We also made a movie of the Woei demo in action. Unfortunately, Youtube video compression doesn't like the Woei demo a lot, therefor the quality is not that good. Awell, at least you can hear Ernie in action :)
Downloads
We have several woei-related downloads for you. Apart from the woei demo, there's also the source code and an MP3 of the woei tune!